Five tips to set a study routine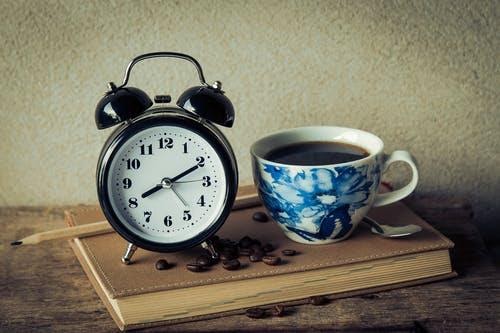 Getting back into the study routine after a long, sunny break can be jarring and exhausting. Our bodies have become used to waking later in the morning while our minds are in a sort of hibernation. It's easy to hit the ground running on your first day back, but maintaining that speed while allowing space for rest will ensure you reach the end of the year successfully inshaAllah. So how can we do that? Here are five (tried and tested) actionable steps you can take to help you get back into a routine:
1. Set a daily Intention
Wake every morning with a renewed sense of purpose. It's normal to feel like the days are melding into one; with going to and from school, doing homework and repeat. A daily intention rejuvenates and is motivational. With the end of the year seemingly far away, focusing on life one day at a time makes it easier to tackle daily hurdles. Your intention can be as simple as making the most of every moment or as big and purposeful as you would like. It's up to you!
2. Your snooze is important!
Running on no sleep is like driving a car on fumes. You won't get anywhere. Sleep is essential for not only physical but mental and even spiritual wellbeing. Experts recommend an average of 8-10 hours of uninterrupted sleep every night. The Prophet SAW has advised us to sleep immediately after Isha and start our day post-Fajr. The early morning is known to hold extra blessings. Two hou
rs of work can get done in one, and the mind is alert and bright at this time. Whether you're an early bird or a night owl, having a good night's sleep will put you on track for a purposeful, productive day.
3. Make mental health a priority
Just as we take care of our physical bodies, the mind also requires special care and attention. After all, it's one of the most important organs! Our physical and mental well-being is connected. For example, lack of sleep can affect our attention span and ability to concentrate. The key to good mental health is understanding your body and its needs. Allow yourself to rest and unwind after long stretches of hard work. You deserve it! Be aware of your body's reactions to stress, anxiety, and exhaustion. This can show up as low moods, irritability, restlessness, and more. It's better to catch yourself and take a step back before reaching burnout. It's all about balance. Sometimes we juggle too much so it's important to know our priorities. That way, we'll recognize what we're willing to do (or not do) to protect our mental wellbeing.
4. Make a schedule according to your study preferences
Students are generally categorized into being either visual, auditory, or kinaesthetic learners. Knowing how you learn best will help you make the most of the academic year. Do you prefer graphics, recorded lectures, or hands-on activities? Are you more likely to study alone or with a group? Or maybe you're a mixture of all… Once you know your style, set your schedule and study space accordingly. Avoid studying in bed so your mind can easily switch between work and sleep mode. Another great tip is to set blocks of study time and commit to it. For example: studying for 45 mins and taking a break for 15 min.
5. Set realistic short-term goals
Reach for the stars but be realistic. Who says you can't have both? Use the SMART goals template to set achievable goals. Keep them short, sweet, and simple. Setting too many big goals in a limited timeframe can be discouraging. Instead, pick two or three you really want to focus on this year and plan for them. Start with the bigger picture (a year) and section it down into monthly and weekly goals. Just as a marathon runner aims for the finish line, set your goals in sight but don't forget to take in the view!

Share This Post!